Emergency Staff and Trainees
Patrice Wright (Site Research Coordinator at Surrey Memorial Hospital)
Kimberley Thomas (Research Assistant for UHNBC in Prince George)
Cheyanne Stones (Research Assistant)
Allie Slemon (Site Research Coordinator at St. Paul's Hospital)
Jo Parker (Research Manager) facilitates data requests and analysis of administrative data for EQUIP Emergency at the UBC School of Nursing in Vancouver, British Columbia.
Manal Masud (Research Assistant for Surrey Memorial Hospital)
Phoebe Long (Research Manager) is the Research Manager for EQUIP Emergency at the UBC School of Nursing in Vancouver, British Columbia.
As research manager for this study, I coordinate research operations and team communications, and provide supervision to research staff and students on the team. I have been managing research projects related to health, equity, and interpersonal and structural violence since 2009, having joined the EQUIP Health Care team in 2011. I have a Master's Degree in Public Health from the University of Arizona, with an emphasis on global maternal and child health and medical anthropology. I am bilingual in Spanish and English and have a background in Latin American studies. My previous work includes social work and counseling with migrant and immigrant families, many of whom have experienced multiple forms of violence. Throughout my previous and current work, I maintain a commitment to social justice and advocacy for marginalized people.
Kat Kolar (Postdoctoral Fellow)
Sunny (Ziqian) Jiao (Research Assistant for St. Paul's Hospital)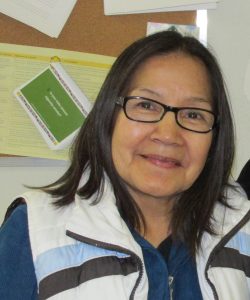 Lucy Duncan (Indigenous Elder Researcher & Advisory Committee) is Elder at Central Interior Native Health Society in Prince George, British Columbia.
My name is Lucille Duncan, First Nations of Binche Keyoh. I belong to the Lhojaboo clan. My educational background, Indigenous cultural knowledge and life experiences have equipped me well to be part of this research. It is an honour to take part in this particular research as I work downtown Prince George at Central Interior Native Health Society as a Dakelh Elder and previously as an Aboriginal Support Worker. CINHS provides health services for the Aboriginal population and diverse group of people who struggle with mental health and addiction, homelessness, and chronic diseases. As an Elder, I provide services in spiritual guidance and counseling, cultural practices, family support, and connect people with other health or community resources. My experiences as Aboriginal and a frontline worker has lead me to ensure that all people receive adequate and proper health services especially in the area of treating people with respect, dignity,  building healthy relationships and understanding the history of Aboriginal people in Canada.